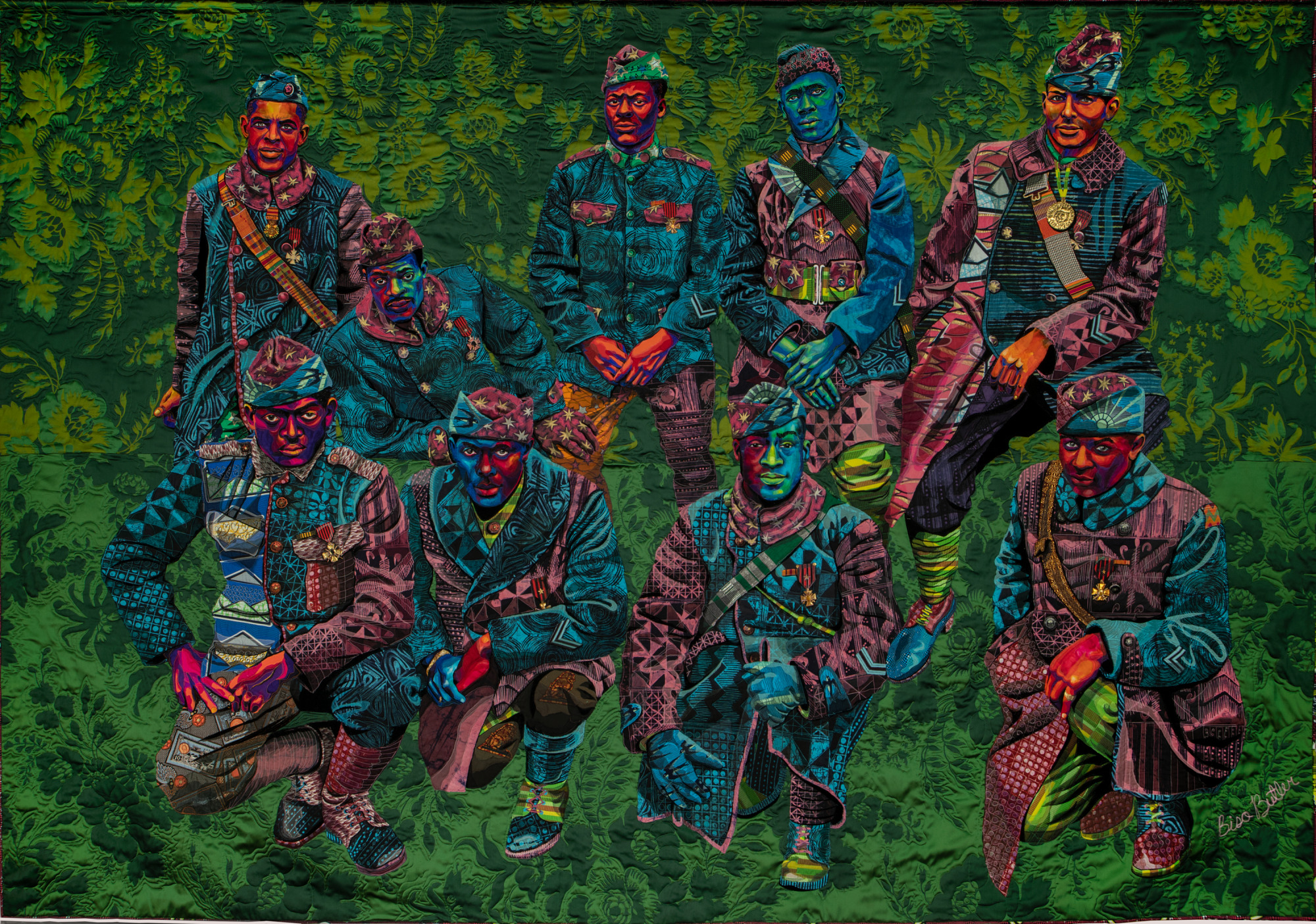 Artist Bisa Butler's artwork "Don't Tread On Me, God Damn, Let's Go!—The Harlem Hellfighters" is her largest quilt to date, measuring approximately 11 x 13 feet. Its nine dignified life-sized figures represent soldiers who faced segregation, racism, and injustice upon returning to the United States.
When these Black soldiers of the 369th Infantry Regiment arrived in Europe, they were not allowed to fight alongside white American soldiers because the U.S. Army was segregated. Instead, the Black soldiers were assigned to fight with the French, where they earned the "Hellfighters" nickname by fighting with ferocity and valor. Despite their sacrifice and extraordinary battlefield performance, a Jim Crow America still did not see them as equals or patriots. 
Butler explores the lives and histories of African Americans through her life-size portrait quilts, honoring notable figures and forgotten individuals alike. She learned to sew from her mother and grandmother, and although formally trained as a painter, her artistic focus in graduate school shifted to a textile-based practice when she made her first portrait quilt for her ailing grandmother.
Butler creates her artworks by building up layers of fabric including cotton, silk, wool, lace, and velvet, giving texture and richness to the image. Additionally she uses African and Dutch wax cloth; adire, an indigo-dyed cloth created by Yoruba women; and other traditional textiles to honor the African roots of her subjects as well as her own Ghanaian heritage. Once a portrait takes shape, she then quilts and appliqués the entire piece, creating expressive, painterly details. 
The quilt is currently on view in the permanent-collection galleries of the Smithsonian American Art Museum's Renwick Gallery. The museum is organizing an exhibition of Butler's work that is scheduled to open in 2025.
To learn more about Butler, watch an archived lecture with the artist and read more about her work and this quilt.
Read more about the Harlem Hellfighters at the National Museum of African American History and Culture.