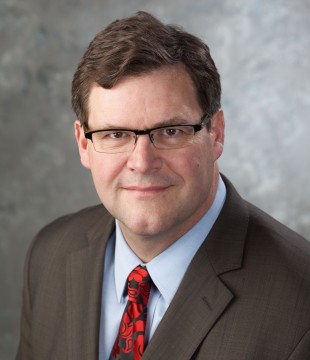 Under Secretary for Science and Research
Kirk Johnson
Sant Director, National Museum of Natural History
Kirk Johnson is the Sant Director of the Smithsonian's National Museum of Natural History where he oversees the world's largest natural history collection. The museum hosts more than 6 million visitors each year. In 2017, its scientists published over 760 scientific research papers and named 300 new species. In 2019, the museum will open its largest renovation, the David H. Koch Hall of Fossils-Deep Time. This exhibition will interpret the history of life on Earth and address its relevance to the future of humanity.
Before his arrival at the Smithsonian in 2012, Johnson was a paleontologist at the Denver Museum of Nature & Science who led expeditions in 18 states and 11 countries. His research focuses on fossil plants and the extinction of the dinosaurs. In 2011, he led an ice age excavation near Snowmass Village in Colorado that recovered parts of more than 50 mastodon skeletons. He is known for his scientific articles, popular books, museum exhibitions, documentaries and collaborations with artists.
Johnson's recent documentaries include the three-part NOVA series Making North America (2015) and The Great Yellowstone Thaw (2017), which aired on PBS channels. He is currently working on a documentary about the ancient climate of the Arctic and Antarctic. His latest book, Cruisin' the Fossil Coastline, The Travels of an Artist and a Scientist along the Shores of the Prehistoric Pacific explores the deep history of the West Coast from California to Alaska.
Johnson is originally from Bellevue, Washington, has a bachelor's degree from Amherst College, a master's degree from the University of Pennsylvania and a doctorate in geology and paleobotany from Yale University. He completed postdoctoral research at the University of South Australia, worked as a marine geologist at the U.S. Geological Survey and served as a Crosby lecturer at the Massachusetts Institute of Technology.
 # # #
SI-37-2019