We thank all those who make today's Smithsonian possible.
As a unique public-private partnership, the Smithsonian leverages an extraordinary commitment from Congress to activate private support, connecting with more Americans where they are, with more impact. We could not do this without your support. Thank you. We invite readers to flip through the Smithsonian Annual Report below from FY2021 (October 2020-September 2021).
James Smithson, the founding donor of the Smithsonian, was an Englishman and a scientist. He never stepped foot in the United States but admired its founding ideals of equality and freedom. When he died, he bequeathed his estate to the young nation to establish the Smithsonian Institution in Washington, D.C., "for the increase and diffusion of knowledge."
The institution was established in 1846—nearly a decade after Smithson's gift—and relied solely on Smithson's endowment. As the Smithsonian grew, Congress recognized it as an essential service to the nation and provided public funds as well.
Smithson's gift inspired a unique public-private partnership that leverages an extraordinary commitment from Congress to activate additional private support to connect with more Americans. It also laid the foundation for a rich history of giving to expand and enhance the Smithsonian's priorities.
Today, federal funds make up about 62% of the institution's annual budget. Congressional funding helps sustain our unparalleled collections, provide for infrastructure and administrative services, and ensure our place on the National Mall and in the nation's imagination.
Private funds amplify the impact of Congressional support. A staff of about 300 advancement professionals across the institution work with leadership to raise $300 million annually from individuals, corporations, foundations and others. Donors' contributions support our dynamic exhibitions, vast educational resources, multi-disciplinary research in more than 140 countries, and more.
Philanthropy will be critical to planning and building the National Museum of the American Latino and the Smithsonian American Women's History Museum. These landmark new museums will tell a deeper story of the roots of identity, shared achievement and what it means to be American.
In a rapidly changing world, private philanthropy bolsters the Smithsonian's role as a trusted global center of learning. Donors' support allows us to explore the world through the lenses of art, science, history and culture; cultivate a passion for learning; inspire curiosity and wonder; and work together toward a single, bold vision: to build a better future for all.
There are many ways to give to the Smithsonian. Direct giving, online giving, membership, gift planning, and foundation and corporate sponsorships provide unrestricted funds which go toward the greatest need across the Smithsonian.
You can also give directly to specific museums, research centers, projects and/or initiatives at the Smithsonian.
As a nation, we are still striving to live up to the founding principles James Smithson so admired. The Smithsonian matters more than ever as a force for civic engagement in America that reaches people where they are. Join generations of donors who have made the Smithsonian what it is today—an institution that educates, sustains and serves the nation as only the Smithsonian can.
Funds Raised by Source
Fiscal Year 2021
Funds Raised by Purpose
Fiscal Year 2021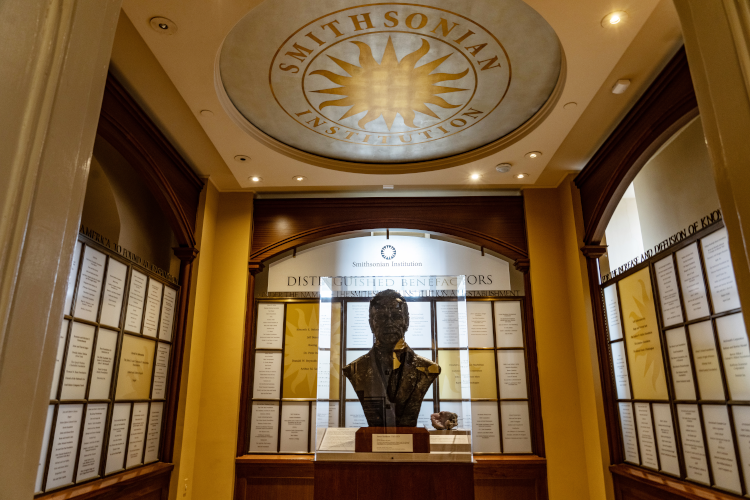 Distinguished Benefactors Room
The Smithsonian honors its most generous donors by prominently recognizing them in the Distinguished Benefactors Room in the Smithsonian Castle. Distinguished Benefactors are individual donors whose gifts total $1 million or more, and foundations and corporations that have made one-time gifts of the same amount. In addition to being recognized in the Castle, Distinguished Benefactors are listed in the Smithsonian's Annual Report.
While the Castle is closed for renovation, we invite you to learn more about the Distinguished Benefactors Room here.